Whilst fake grass for garden use is a great deal more resistant to weeds than natural turf, there is still the possibility that you might find weeds growing around the edges, or sometimes even through the backing material, especially if the correct installation procedure hasn't been followed to the letter. Let's take a look at how to prevent weed growth in an artificial lawn, and how to treat it if it does happen.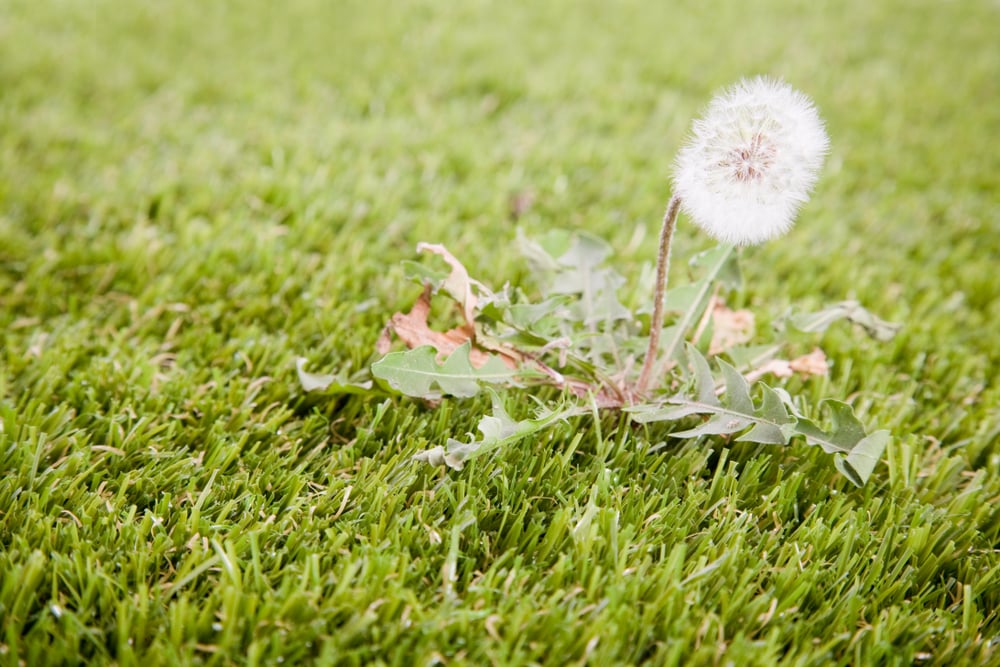 Fake grass is pretty much maintenance-free, and certainly lower maintenance than a natural lawn. But if you fail to follow the correct installation guidelines, you may find weeds growing around it or even up through it.
If for example you didn't take steps to eliminate weeds from your original base before fitting your fake lawn, you didn't remove any topsoil, or failed to lay a weed membrane, then you may see weeds growing up through the turf. Even a concrete or slab base needs treating for weeds before laying fake grass over it, because weeds are prone to grow up through cracks and gaps.
Weeds can also grow in some types of infill, although mostly these will not root beneath the lawn, making them easy to pull up. Sand infill however will allow seeds to germinate, making it a bit more of a challenge to get rid of them.
Obviously you can't dig weeds out of a fake lawn, as you will damage it. So how to deal with weeds growing in synthetic grass?
How to deal with weeds growing in fake grass
There are three key ways to deal with weeds that grow up through fake grass.
1. Brushing
Part of the regular maintenance regime when it comes to fake grass for garden use is brushing.
A natural bristle broom should be used monthly to help keep the pile bouncy and upright. Brushing will also remove the airborne seeds that cause weeds.
2. Garden maintenance
If your garden landscaping combines a fake lawn with natural planting such as trees, hedges and border plants, there will always be the chance that seeds from surrounding vegetation will fall and germinate on your artificial grass.
For this reason, it is important to keep surrounding plants well pruned, and use a leaf blower to remove any plant based debris from the fake grass, as seeds may well be lurking within.
3. Weed killer
Another way to remove weeds and prevent further growth is to use a weed killer on your fake grass. For gardens where there are pets and children, you will need to choose your weed killer carefully, however. Select a pet-friendly product, and one that is water-based so that you don't cause any damage to the fibres of the turf.
You will only need to treat the lawn once or twice a year so as to keep weeds away. Once the weeds are dead, always move quickly to remove them so that they don't start to rot and stain the turf.
Looking for budget artificial grass? Choose Say Grass for the best quality and the most competitive prices.
If you are seeking a local artificial grass supplier that can provide you not just with premium grade budget artificial grass, but also everything else you need to install and maintain your fake lawn, look to SayGrass.co.uk where we guarantee that you won't find quality artificial turf like ours at better rates anywhere in the UK.
Please feel free to browse our artificial grass ranges, consult our comprehensive installation guides, or get in touch for all the specialist advice you need from our expert team.